A research feature is now available to increase a user's ability to interactively find research questions in Robert's Rules of Order Newly Revised.
The research questions in Part 1 of the NAP Registration Exam are not available to the public.
The ParlQuest research feature permits the user to interactively develop his or her skill at finding research questions. This feature provides over 1,400 selected research questions from the 10th edition of Robert's Rules of Order Newly Revised!
The research feature can be licensed directly from the company. The research feature requires the current release of ParlQuest.




After the research feature is licensed, a slightly different window appears during subject selection.



Now the user can create a test using test bank questions or Research Questions.



Select the subject area in a variety of ways.
Test questions are provided in a format that is easy to read. The reference page number is typed in the large box shown.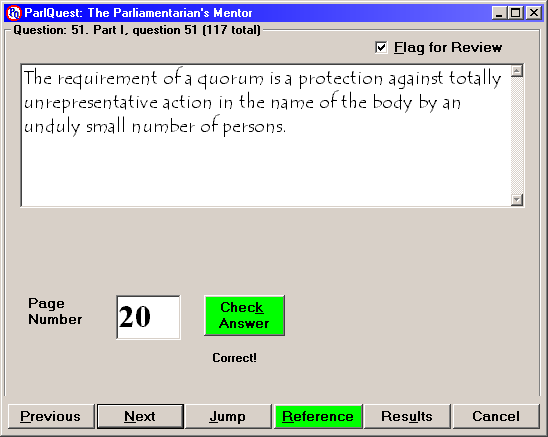 The Jump option allows for an immediate transfer to any question in the session.
When the Reference button is green (see Research Question, above), it means that there are personal notes recorded for this research question.



Clicking the Reference button opens a Notes/Reference window that allows the user to type in any notes specific to the question. Once the notes are saved, the Reference button will turn green.



These notes can also be printed.



The More Info option allows the user to obtain more information by displaying the appropriate pages from the basic sections of RONR.
Minimum requirements: Same as basic ParlQuest.
Go to the ORDER page to order ParlQuest for $115 + $5 shipping.
© Copyright 2003, by RPG III, Inc. d.b.a. Management Information Consultants. All Rights Reserved. ParlQuest is a registered trademark of RPG III, Inc. Prices and terms subject to change without notice.
* Windows is a trademark of Microsoft Corporation.